There's a festive feel in the air…
---
14 November 2019
Halloween and Bonfire Night are out the way which means it's time for the next round of festivities. Christmas menu planning has been well underway in the foodservice industry and everyone is busy planning impressive menus. Everything from the traditional turkey roast through to special cocktails, canapés and bar snacks, it's a time where everyone comes together to celebrate. For many operators a Christmas menu is planned well in advance and will run throughout the month leading up to the big day, therefore the pressure is on to make sure everything runs smoothly and the food is exceptional.
‍Food manufacturers have also been carefully developing new products behind the scenes to help operators create a festive feast to remember. Whether it be warming flavours or novelty festive shapes, creating dedicated Christmas menus that really create a buzz is key to maximising sales and keeping customers happy. At Pidy, we are here to provide inspiration in the form of quality pastry products which open the door to an exciting world of sweet and savoury creations during the festive season and beyond. Whether you're sourcing pastry for mince pies, extravagant desserts or festive vol-au-vents, we have a solution for all. Here are some of our top pointers to give your Pidy creations that extra edge they need at Christmas!

Look the part: Perfect pastry is nothing if it has not been carefully presented on the plate to provide a visually appealing feast for the eyes. It's important to showcase the products to their fullest. Don't be afraid to add creative flair and character to the look of your dish. Whipping up a quenelle with a hot spoon or using a stainless-steel mould to perfectly shape sour sponge sheets with expert precision is just one of the many ways to impress guests.
Garnishes and accompaniments: The garnishes provide the finishing touch and play a significant role in the diner's experience by bringing the dish together. Garnishes serve many purposes such as adding a pop of colour, giving an initial indication of the flavours in the dish or complementing them further. It's also great to pick ones that match the season and are festively appropriate.

Use of colour: Our chocolate shortcrust pastry will standout when garnished with a candied orange peel or a lemon tart welcomes a berry compote or vibrant raspberry sorbet. Alternatively, make an impact by keeping colours the same for a uniform and dramatic look and feel.
Arrangement: This can really make or break a dish. Filling the plate in an interesting way and choosing different approaches. Whether you choose to keep things minimal or get more creative by layering and stacking ingredients in the middle of the plate to give the dish more depth, it's great to experiment until you get the desired effect.

Consistency is key: When serving large numbers at Christmas, it's crucial to be consistent in the design and serving size. They should all look uniform and neat when lined up next to each other. This is where using ready-to-fill pastry cases come in very handy!

Dare to be different: Pidy products are designed to be a canvas for chefs' and caterers' imagination. Have fun with the products and add something special to their presentation. Adding a theme to the dish or creating interesting effects will always give the wow factor.

Have some fun: There's no better way to get into the festive spirit than with some novelty Christmas shapes. Our festive vol-au-vent collection is the best way to add some fun, as well as elegance on a menu.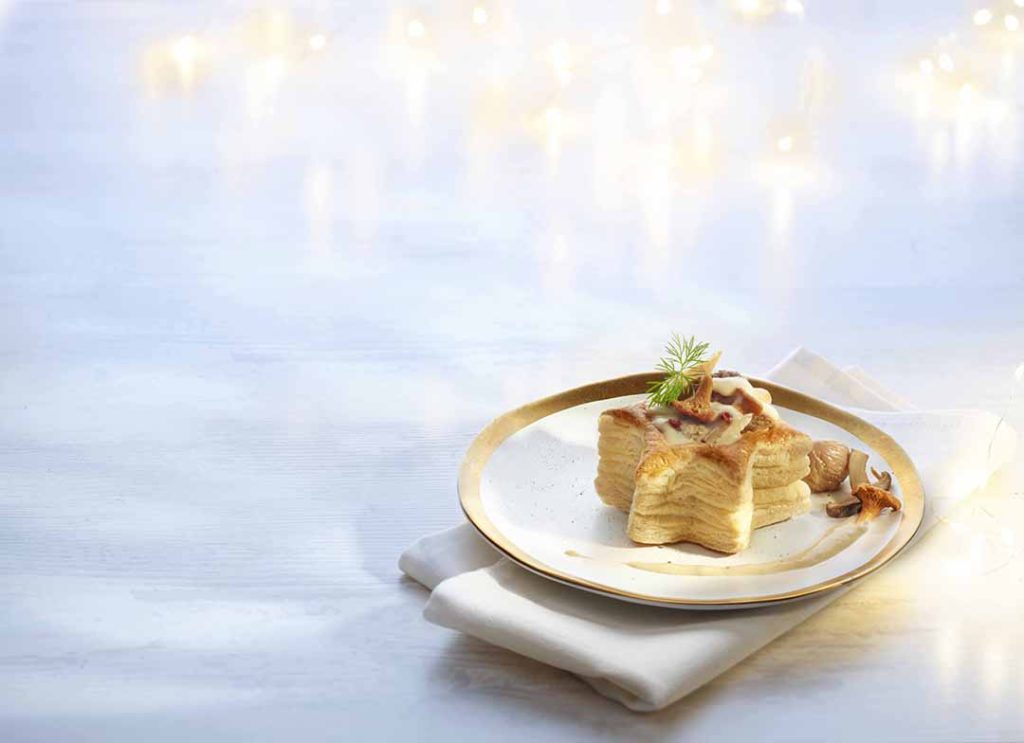 Discover more from Pidy...
Recipes
Here's a few ideas to get you started - you will find the products themselves inspire you to create plenty more.
Accessories
Essential kit with which to present your creations, helping you make pastry the star of your event.
Products
If you want to find specific products to fulfil certain criteria, you can refine your search here.
Want to discover more about the Pidy range?
Download our brochure for our full product ranges, product information and recipes.
Catalogue/Brochure 2023